Welcome to Saskatoon, the City of Bridges in the Land of Living Skies!
We acknowledge we are on Treaty Six territory and the traditional homeland of the Métis. We pay our respects to the First Nations and Métis ancestors of this place and reaffirm our relationship with one another.
The International Beam Instrumentation Conference (IBIC) is dedicated to exploring the physics and engineering challenges of beam diagnostic and measurement techniques for particle accelerators worldwide.
| | | | | |
| --- | --- | --- | --- | --- |
| About IBIC 2023 | Registering? | Paper Author? | Exhibitor or Sponsor? | Accommodations |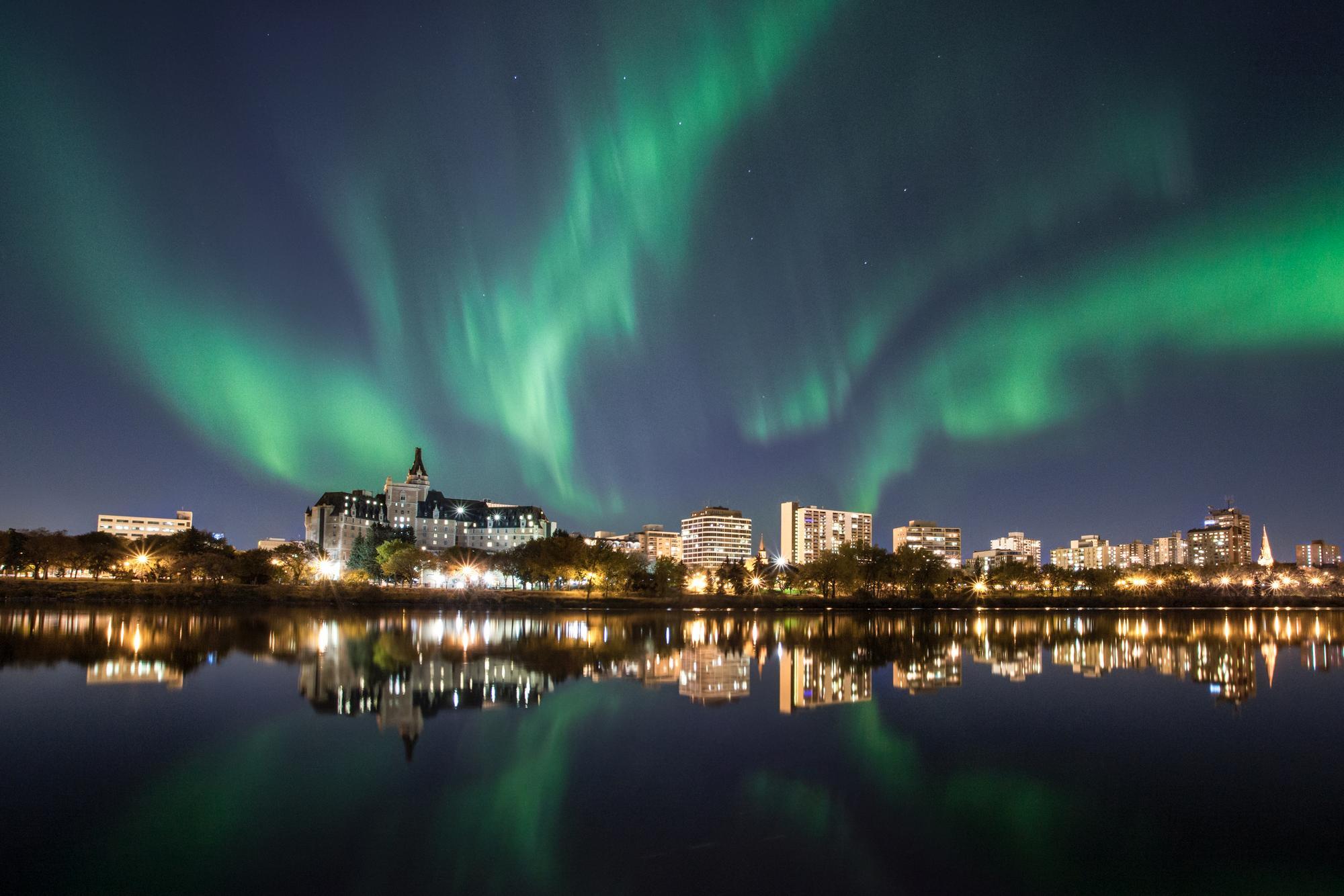 Northern Lights over Saskatoon
About our Host City, Saskatoon:
The name "Saskatoon" is believed to come from the Cree word misâskwatômina which refers to the sweet, violet-colored berry that grows locally.
Check out the Visitor's Guide to Saskatoon - https://www.tourismsaskatoon.com/discover-saskatoon-visitor-guide/
Discover Saskatoon also has the following promotional video: https://www.youtube.com/watch?v=wBQKrNArApY
The Must Do Canada Youtube channel has the following to say about Saskatoon: https://www.youtube.com/watch?v=kUkTKR6_6eg
A video recording on the history of Saskatoon from the EPICS Spring Collaboration 2021 can be found here.
Wikipedia says:
With a 2021 census population of 266,141, Saskatoon is the largest city in the province, and the 17th largest Census Metropolitan Area in Canada, with a 2021 census population of 317,480.
Saskatoon is home to the University of Saskatchewan, the Meewasin Valley Authority (which protects the South Saskatchewan River and provides for the city's popular riverbank park spaces), and Wanuskewin Heritage Park (a National Historic Site of Canada and UNESCO World Heritage applicant representing 6,000 years of First Nations history). The Rural Municipality of Corman Park No. 344, the most populous rural municipality in Saskatchewan, surrounds the city and contains many of the developments associated with it, including Wanuskewin. Saskatoon is named after the saskatoon berry which is native to the region, and is itself derived from the Cree misâskwatômina. The city has a significant Indigenous population and several urban Reserves. The city has nine river crossings and is nicknamed "Paris of the Prairies" and "Bridge City".
About our Host Facility, the Canadian Light Source
The Canadian Light Source, a national research facility of the University of Saskatchewan, is the only synchrotron in Canada and one of the largest scientific infrastructure investments in our country's history.
CLS has enabled over 5,000 scientists from 55 Canadian academic institutions and 44 countries, to publish over 6,000 scientific papers, highlighting discoveries in a wide variety of fields, in over 1,000 international scientific collaborations.
From helping in the fight against COVID-19 to creating new cancer-fighting drugs, developing more nutritious and climate-resistant crops and supporting clean-tech and green mining processes, CLS's infrastructure and experts help researchers solve problems, train the next generation of scientists, and support industries to become more efficient and sustainable.